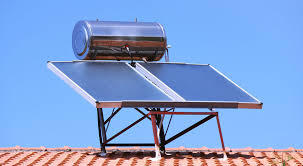 Solar Water Heater
Flat Plate Collector (FPC) Techno-Commercial Benefits
Easy to operate
Reduce electric bill.
Reliable & Long Lasting.
Attractive payback of 3-4 years.
No fuel required.
Natural, Green & Clean Energy.
Domestic & Industrial use.
It absorbs both the direct and diffuse solar radiation.
Evaluated Tube Collector (ETC)
Available in 100 LPD, 200 LPD, 500 LPD & above.
Selective coated Triple Layer borosilicate Vacuum Tubes.
Heating from infrared rays of solar radiation.
Better performance in winter & cloud days.
Minimum heat Loss from the system due to Evaluated Tubes.
Less Maintenance, easy to clean & less space required.
Scale deposit off the smooth glass to accumulate at the bottom, from where they can be easily removed without use of acid.
Suitable for boring hard water.
Advantages
5 years replacement Guarantee.
Can handle water upto 2500ppm.
System is made up of GI, so a system becomes Sturdy and Robust.
Useful for Builders to get their completion certificate.
Save major electricity bill.
Solar Pumps
Application
Drinking Water Supply.
Water supply for remote domestic usage.
Water supply for solar thermal installation.
Water supply for animals.
Game parks and game farms.
Pond Management.
Solar micro irrigation (small family's garden, small rural areas or green roof system irrigation of fields and greenhouses).
Features
Fully Automatic
Round the Clock Operation
Automatic water level controller
Internal bypass feature for pump protection
Strong Construction
Long Life
Models as per capacity
Economic